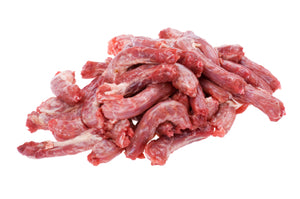 Our Indulging Chicken Necks are a favorite for smaller Pets. Full of protein, bones & cartilage, it's great for meals & treats.
Mix & Match between any of our Complete HOUSE BLEND options. For a full and nutritious meal for your Pets. Delivered right to your door!
Feeding a raw diet has the following benefits & happy side effects for a long & healthy life:  Prevents frequent vet visits, keeps coat shiny & healthy, helps with weight control & balanced energy, improves digestion, healthy teeth & gums & many more!!
Serving: Place the individually frozen Chicken Necks in your Pet's bowl to thaw out away from their reach. Don't forget to add 1 to 3 blocks of  our House Blends for a complete meal. Check out our Introducing Raw to calculate your pet's daily amount.
Handling: Frozen individually to help prevent cross-contamination,  should be handled with the same care as any raw food.  Our Raw Foods are USDA Approved, Human Grade.