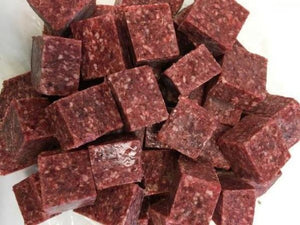 Our chicken House Blend is full of nutritious low-fat, Muscle Meat / Beef Heart, Chicken Drumsticks " with Bone", Beef Liver, Beef Kidney!
Mix & Match between any of our individually frozen ON THE BONE options. For a full & nutritious meal for your Paw(s). Delivered right to your door!
Feeding Raw Benefits & Happy Side Effects: Helps prevent frequent vet visits, extends the life of your paw(s), keeps their coat shiny & healthy, it helps with weight control, improves their digestive system & many more!!
Serving: Place 1 to 4 frozen block(s) of blend in your paw's bowl to thaw, away from their reach. Don't forget to add an ON THE BONE options. For a complete & nutritious meal. Check out the Introducing Raw section to calculate your paw's daily serving.
Handling: Cut in blocks approximately 0.25 pounds after frozen. This helps prevent cross-contamination. The blocks should be handled with the same care as your raw foods prior to cooking. Our Raw Foods are USDA Approved, Human Grade.