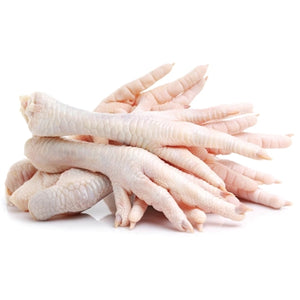 Spoil your Pet with the finest, fresh chicken feet. Great for training or an anytime snack. 
High in protein, they have a natural unprocessed source of glucosamine & chondroitin. This helps prevent & improve joint pain & mobility. Sizes will range between 2-4 in. approximately 10 per lb.

Mix & Match between any of our HOUSE BLEND options. For a full & nutritious meal for your Pet. Delivered right to your door! 
Feeding Raw has the following benefits & happy side effects for a long & healthy life:  Prevents frequent vet visits, keeps coat shiny & healthy, helps with weight control & balanced energy, improves  digestion, healthy teeth & gums & many more!!
Handling: Frozen individually to help prevent cross-contamination. Should be handled with the same care as any raw food. Our Raw Foods are USDA Approved, Human Grade.