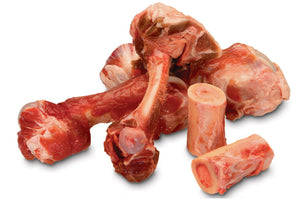 Throw your Dog a bone! at $3.99lb. our Beef Me Up Marrow Bones are a perfect treat. Cut" from 1 to 3 inches.
Mix & Match between any of our HOUSE BLEND options. For a full and nutritious meal for your Pets. Great for Treats & Training. Delivered right to your door! 
Feeding Raw has the following benefits & happy side effects for a long & healthy life:  Prevents frequent vet visits, keeps coat shiny & healthy, helps with weight control & balanced energy, improves  digestion & many more!!