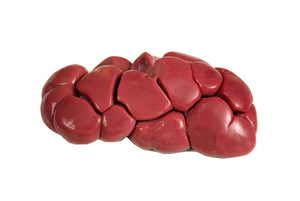 Beef Kidney is a good source of Protein, Vitamin C and Zinc, and a very good source of Vitamin A, Thiamin, Riboflavin, Niacin, Vitamin B6, Folate, Vitamin B12, Pantothenic Acid, Iron, Phosphorus, Copper, and Selenium. Very good organ for your dog or cats raw pet food.
Mix & Match between any of our individually frozen ON THE BONE options. For a full and nutritious meal for your Pets.  Delivered right to your door!
Feeding Raw has the following benefits & happy side effects for a long & healthy life: Prevents frequent vet visits, keeps coats shiny & healthy, helps with weight control, improves their digestion & many more!!
Handling: Frozen individually to help prevent cross-contamination, should be handled with the same care as any raw food. Our Raw Foods are USDA Approved, Human Grade